Project Summary
Developing and enhancing student STEM communicator models across SW HEIs
Students Communicating Science
This project involved the sharing of good practice in STEM communications between academics and students based at three universities - the University of Bath, the University of Bristol and the University of the West of England (UWE) - alongside input from the Institute of Physics and the Science Learning Centre South West. This collaboration facilitated the direct comparison of three different types of STEM communication models - paid, volunteer and accredited models.
Aims & Objectives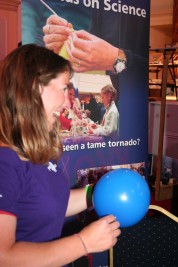 Science Busking activities in public venues
The aim of the project was to:
Give STEM students in the South West the opportunity to learn the techniques of STEM communication, to have hands-on experience of being STEM communicators and, in certain circumstances, to obtain degree credit for doing so. Staff involved in the project will enhance their understanding of the benefits and challenges of three differing STEM communicator models - paid, volunteer and accredited models.
In achieving this, the project:
Drew on, and extended, existing good practice, exposing students to richer training opportunities and facilitating their participation in a variety of STEM activities including Science Fairs and Royal Institution Masterclasses
Undertook longitudinal research to evaluate the experiences of a total of 60 STEM student communicators. Through a mixture of electronic questionnaires and short, audio-recorded interviews, the research elucidated the students' motivations and their perceived benefits of taking part in STEM communications across the three models
Influenced the embedding of new accredited modules in STEM communications across the universities of Bath and Bristol
Delivered two workshops on STEM communications, sharing ideas and good practice derived from the project with 60+ HE and FE STEM practitioners
Developed a Guide to Student Involvement in STEM Activities for those considering STEM communication activities for the first time